In 2015, at the request of Dr. Tom Woods, Director of MHM, Awaiaulu agreed to translate and annotate nearly 200 letters written to various missionaries by Hawaiian chiefs yielding 514 pages of translated text.
The letters, varying from short notes to multi-page epistles, spanned the years from the advent of Hawaiian writing in 1822 to beyond the closure of the Hawaiian Mission in the 1860s. All the letters were in the MHM archives, where they had remained untranslated, some for nearly two centuries. The impending bicentennial of the arrival of the Protestant missionaries highlighted these letters as important resources for historians and researchers working on commemorating the bicentennial.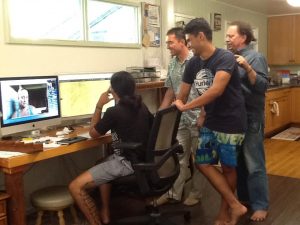 Awaiaulu agreed to typescript, translate, and annotate the collection of letters as a training project to introduce young scholars to this kind of effort. Hina Kneubuhl and Jon Yasuda, both graduates of Mānoa's MA program in Hawaiian,  were brought on as trainees, each with a weekly assignment of text production, translation, and joint review. Kaliko Martin, Awaiaulu's research assistant and another MA graduate, was tasked with organizing the hundreds of separate files and documenting the progress. Hilinaʻi Sai-Dudoit, a fluent high school sophomore at the Hawaiian immersion school S. M. Kamakau, was invited to shadow the project for the experience. All four of them were soon drawn into the training as full participants, Hilinaʻi becoming Awaiaulu's first "student intern."
The process took most of two years, and provided valuable information about the missionaries' relations with the ruling chiefs of Hawaiʻi, as well as new insights regarding the individual chiefs and aspects of Hawaiian society in different spans of history.  Each letter, typed out in its original form and again in modern orthography, was then translated, with annotations on the individuals, places, and events mentioned in the letters. After finishing the hundreds of translations, another collection of nearly 50 English language letters was also type-scripted for easier access and yielded another 250 pages of text. All of the letters from this massive project are on the web at the digital archives of the Mission Houses Museum.
Link to work of project:
https://hmha.missionhouses.org/collections/show/178

Video of a presentation about the project held at Kamehameha Schools, Kapālama campus at:
https://www.youtube.com/watch?v=utKN2gI4kTg