Awaiaulu has selected the memoirs of John Papa ʻIʻi, originally published as a series of articles in the Hawaiian Langauge newspapers Ke Kumu Aupuni (The Hawaiian Kingdom) in 1839 and then in Ka Nūpepa Kūʻokoʻa (The Independant Newspaper) until his death in 1870 as the source of the current translation training project.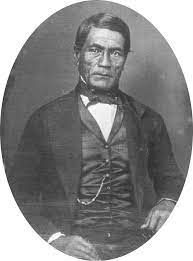 This body of text ran as a serial called Nā Hunahuna o nā Moʻolelo Hawaiʻi (Fragments of Hawaiian History Text). The 621 pages of original text is written in the Hawaiian language, and previously only found in Hawaiian language newspaper repositories. A radically edited portion of his works was published in English (1973) as Fragments of Hawaiian History.
Nā Hunahuna o nā Moʻolelo Hawaiʻi (Fragments of Hawaiian history text) contains the entirety of John Papa ʻIʻi's writings. This complete body of work captures historically critical points within Hawaiian Kingdom history from the time Kamehameha I united the Hawaiian Islands until the reign of Kamehameha V from the firsthand perspective of John Papa ʻIʻi.
This text, paired with Ke Kumu Aupuni (The Foundation of Hawaiian Nationhood) by Samuel M. Kamakau is inferred by John Papa ʻIʻi to provide a holistic perspective of ʻike moʻolelo Hawaiʻi (Hawaiian historical knowledge) for a significant part of the Kingdom of Hawaiʻi, a current fragment of knowledge in the gap of Hawaiian self-identity. These are examples of the significant knowledge contained in Hawaiian language repositories.
"He kupanaha keia kanaka" wahi a John Ii. "Me he la ua ike maka, paanaau na mea apau na wahi aʻu i hele ai me na ʻlii Kauikeouli – Kaahumanu me he la oiala kekahi, he uuku loa na mea hemahema; a oia hoi kaʻu e hoolaha nei na hunahuna Moolelo Hawaii oia hui ia ka Moolelo a Kamakau me keia mau hunahuna ua piha loa, ua lawa ka Moolelo no Kakou."

"This man is remarkable," John Ii said. "As though he had been an eyewitness, memorizing everything about the places where I went with the chiefs Kauikeaouli – Kaahumanu as though he were along too. There is very little that is lacking, and it is I who am publishing the fragments of Hawaiian history and when Kamakau's history is joined with these fragments, it is complete, and it is adequate, this story concerning all of us."

1893 Feb 25 Letter, E. Helekūnihi to Reverend Emerson. Hawaiʻi Mission Children Society Archives