KĪPAPA Educator Resources:
Bilingual Resources Covering
Hawaii's History
Learn about key events, people and places in Hawaii's history. In response to a need in our community for access to historical Hawaiian knowledge, Awaiaulu has assembled primary source documents, articles from the newspapers, and produced material to understand the detail of key events and key figures in Hawaiian history.

Awaiaulu have amassed nearly 1,000 documents in Hawaiian and English as part of the collection and created bi-lingual curriculum for grade bands K-3, 4-6, 7-8 & 9-12. You will find mele, books, indexes in English & Hawaiian, supplemental reading material and games.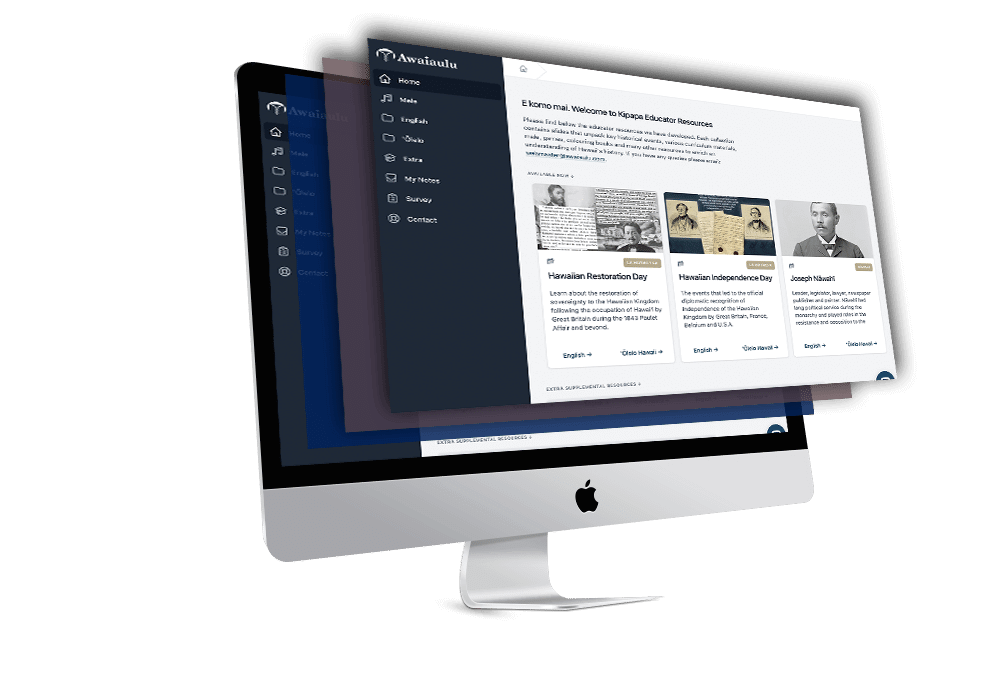 ↓ Some of the materials and resources you will find in Kīpapa ↓
📑 SLIDESHOW PRESENTATIONS OF EACH TOPIC
Awaiaulu has assembled various primary source documents into a digestible presentation slide format with narratives to help you and your students grasp the breadth and depth of these two historical events.
📑 INFOGRAPHIC PREVIEW WITH HYPERLINKS TO RESOURCES
16-point infographics with hyperlinks have been created to allow easy access to supporting material for both topics.
🕵 Inquiry Resources
Inquiry worksheets and presentations assist with problem solving and developing connections through time periods.
🕹 Games
The Awaiaulu team have developed an array of games in the curriculum such as escape rooms, most wanted posters and coloring in books.
🎼 MELE
The curriculum includes mele that honors our aliʻi, Hawaiʻi and the Hawaiian patriot, Timoteo Haʻalilio.
🗂 INDEXES OF ALL STUDY MATERIALS
Indexes of supplementary and recommended reading materials for Lā Kūʻokoʻa and Lā Hoʻihoʻi Ea are available as Google sheets.
ACCESS NOW ↓
Please login or register now using a Google associated email account:
Login | Register
Clicking the button will take you to the Kīpapa website 🔐 app.awaiaulu.org
A nation is truly enlightened when its people know the stories of their land.

Aia ka naauaoio o ka lahui o kekahi aupuni a paa na moolelo o kona aina kulaiwi iaia."
JOSEPH MOKUOHAI POEPOE
Ka Na'i Aupuni, 1905
He mea maikaʻi loa ka ʻimi ana i nā mea i hāʻule a nalowale o nā mea kahiko o Hawaiʻi nei; a ke ʻimi nei kākou e loaʻa mai me ka pololei, a e lilo ia i waiwai na nā hanauna ma hope aku nei i ka wā pauʻole.

It is worthwhile to seek that which has fallen away or disappeared regarding ancient things of this land, Hawaiʻi; we are striving to find what is accurate, for it will be of great value to future generations for all time."
SAMUEL MĀNAIAKALANI KAMAKAU
Ka Nupepa Kuokoa, 1865
---
Timeline of Releases
HISTORICAL TIMELINE
• Kamehameha I
• Expulsion of Catholics from Hawaiʻi
• History of Hawaiian Language Newspapers in Hawaiʻi
• No Ke Kalaiʻāina, Hawaiʻi's Political Economy
• Constitutional Monarchy
• The Codification of Land
• Bayonet Constitution
• Hawaiian Nationality
• Overthrow to Annexation
MĀHUAHUA ʻOHINA:
Infographics, PDF w/narrative, resources and curriculum.
• Mataio Kekūanāoʻa
• Ka Huakaʻi Hele A Liliʻuokalani/Liliʻuokalani's Travels Abroad
• 1864 Constitutional Convention
• James Kaulia
• Ka ʻOihana Wai
• Lucy Peabody
• Nupepa Stories