Awaiaulu offers four texts that represent the outcome of our translation training, our research, or our collaborative work with others in the field. Hiʻiakaikapoliopele was published by Awaiaulu Press, while the other books have been co-published with Bishop Museum Press.  All are offered here at a flat-rate express mail rate of $5 per book.  For bulk orders, please contact us directly at info@awaiaulu.org.
If you would like a signed copy of Mai Paʻa I Ka Leo or The Epic Tale of Hiʻiakaikapoliopele, please email us with the dedication at the time of your order – info@awaiaulu.org.

Mai Pa'a i ka Leo: Historical Voice in Hawaiian Primary Materials – Looking Forward and Listening Back.
The huge cache of native-language writings in Hawai'i has been eclipsed for a century, with only a fraction incorporated into modern knowledge.  This book, by Puakea Nogelmeier, the Director of Awaiaulu, examines the hundred or more Hawaiian-language newspapers that were published from 1834-1948, highlighting how they developed as a national repository of knowledge and how they became obscured when English replaced Hawaiian as the the common language of the islands.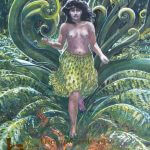 The Epic Tale of Hiʻiakaikapoliopele
The English translation of a grand tale about Hiʻiakaikapoliopele, the youngest sister of the volcano goddess, and her great quest through the island chain to bring Pele's lover back to their crater home in Kīlauea Caldera.  The Hawaiian version of this saga was written by Hoʻoulumāhiehie as a serial account in the newspaper Ka Naʻi Aupuni in 1905-1906.  Translated by Puakea Nogelmeier as a training project with Sahoa Fukushima and Kamaoli Kuwada, Hiʻiakaikapoliopele was the first product of the translation training established through Awaiaulu: Hawaiian Literature Project. The Hawaiian text of the story, in modern orthography, is also available Ka Moʻolelo o Hiʻiakaikapoliopele [below]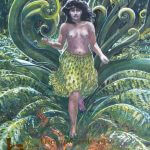 Ka Mo'olelo O Hiʻiakaikapoliopele
Ka Mana ʻŌlelo Hawaiʻi — The Hawaiian–language version of this grand tale about Hiʻiakaikapoliopele, the youngest sister of the volcano goddess – Pele, and the great quest through the island chain to bring Pele's lover back to their crater home in Kīlauea Caldera.  This saga was written by Hoʻoulumāhiehie as a serial account in the newspaper Ka Naʻi Aupuni in 1905-1906.  Recast in modern Hawaiian orthography and translated by Puakea Nogelmeier as a training project with Sahoa Fukushima and Kamaoli Kuwada, Hiʻiakaikapoliopele was the first product of the translation training established through Awaiaulu: Hawaiian Literature Project. The translated version is also available – The Epic Tale of Hiʻiakaikapoliopele. [above]

Hawaiian Picture Vocabulary

Ka ʻOihana Lawai'a  – Hawaiian Fishing Traditions